With economical and technological changes come new ways of working efficiently. Companies look for ways to reduce costs and keep employees happy. They are aware that professionals look for jobs that will let them work in flexible ways as long as they are productive and reach the set goals. Working remotely is one of the flexible ways of working that many employees prefer.
Jonajo Consulting has a team of consultants located in over 3 different countries. Headquartered in San Francisco, California, Jonajo consultants are often working remotely and maintain fluent communications with the team and clients. This not only provide talent from different countries to be a part of the team and a flow of innovative ideas, it also provides client support at almost any time of the day and at different times zones.
One of the company's projects, Virtual Assistants Today, promotes efficient working practices from a distance providing clients with assistance from skilled professionals that work from outside the country. Said professionals live and work in US time zones. Another example of a company that runs a remote team is Zapier, they have been using this model since 2011. Twice a year, the Zapier team gets together at a company retreat to catch up on what's happened with their teammates over the last six months and to plan what they'll do next. The rest of the year, they manage to work together across seven time zones.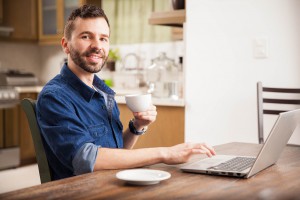 Companies are increasingly adapting to new work practices
According to a Fast Company article, a recent survey of business leaders at the Global Leadership Summit in London found that 34% said more than half their company's full-time workforce would be working remotely by 2020. A full 25% said more than three-quarters would not work in a traditional office by 2020.
Working remotely is a growing trend that not only attracts a wide pool of talent from all over the world but also saves the company costs such as office space and travel expenses. Companies can instead invest in training and technology to improve client and employee experiences. This model has proven to result in less absenteeism and turnover. The model does not have to be an all-or-nothing type of model. Some companies have adopted the idea of having employees work at the office space a couple of days a week when they have to personally meet up with someone in the building and work from home the rest of the days. To give people the opportunity to maybe take an afternoon off to focus on personal interests and then catch-up with work during a Saturday morning is something that responsible and proactive employees appreciate. Also, a company can now attract international talent without having to pay for relocating expenses.
It is well known that people do their best work when they are able to work flexibly. In order to stay competitive in the industry, companies should consider adjusting to the new practices and, as a consequence attract talented and proactive professionals to join the workforce. The faster companies understand that this model is not only for new, young and hip companies but that it yields the same results to mature companies, the faster they will be able to cut costs and boost productivity.