Until recently, my primary platform for messaging has been
Whatsapp
. I like the fact that Whatsapp has an easy to use interface, allows for groups to be created, and allows voice messages and phone calls. However, its popularity makes it also hard to separate work from personal use, which is where Slack comes in. Slack is an
essential tool for the remote workplace
and has been gaining ground rapidly in the last couple of years.
I have been experimenting with slack a bit more recently, in particular after hooking various Zaps and bots with Slack. So far, it's been quite powerful. The only issue that I had was that I seemed to be missing a lot of Slack notifications. With whatsapp, I was used to always getting notified, but it was not the case for Slack notifications, so I felt I was missing out on things.
Layers of Slack notifications
I discovered there are various layers of notifications that one should check:
Phone: Are notifications enabled for slack? [No, they were not]
Phone & Slack: Are there any "Do not disturb" settings active? [Yes, my company had a default one]
Slack preferences: Notifications for all activity, or only for direct messages or highlight words?
AND last but not least "Mobile Push Timing" [It was set only to notify after 2 minutes of being idle on the desktop]
Mobile Push Timing, was the setting that I overlooked and caused me to miss messages. With Whatsapp, the default settings upon installation would notify you of messages every time. But for Slack, you have to be deliberate in enabling notifications.
Once I set Mobile Push Timing to Send push notifications as quickly as possible when I am not active on the desktop, I received all the Slack notifications that I wanted: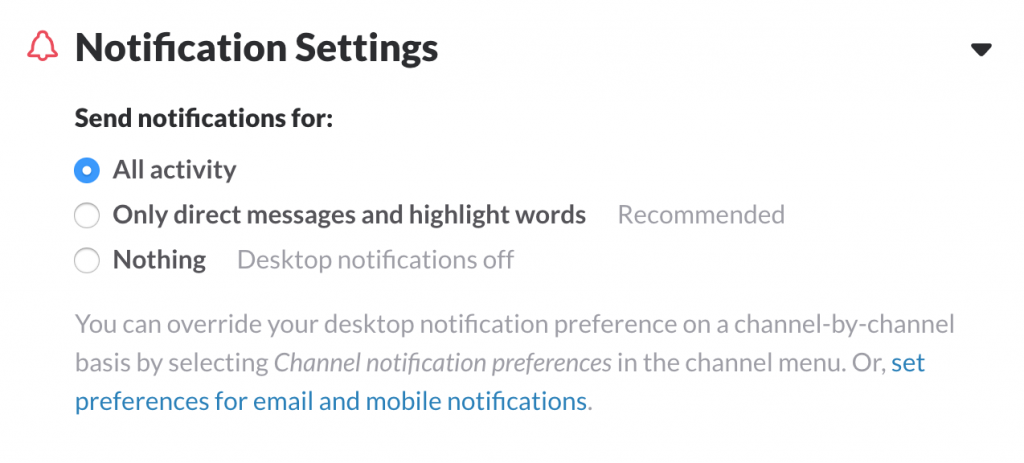 I now get all Slack notifications, which I needed as a notification junkie. If it gets to be too much, I will always have the option to dial it down.